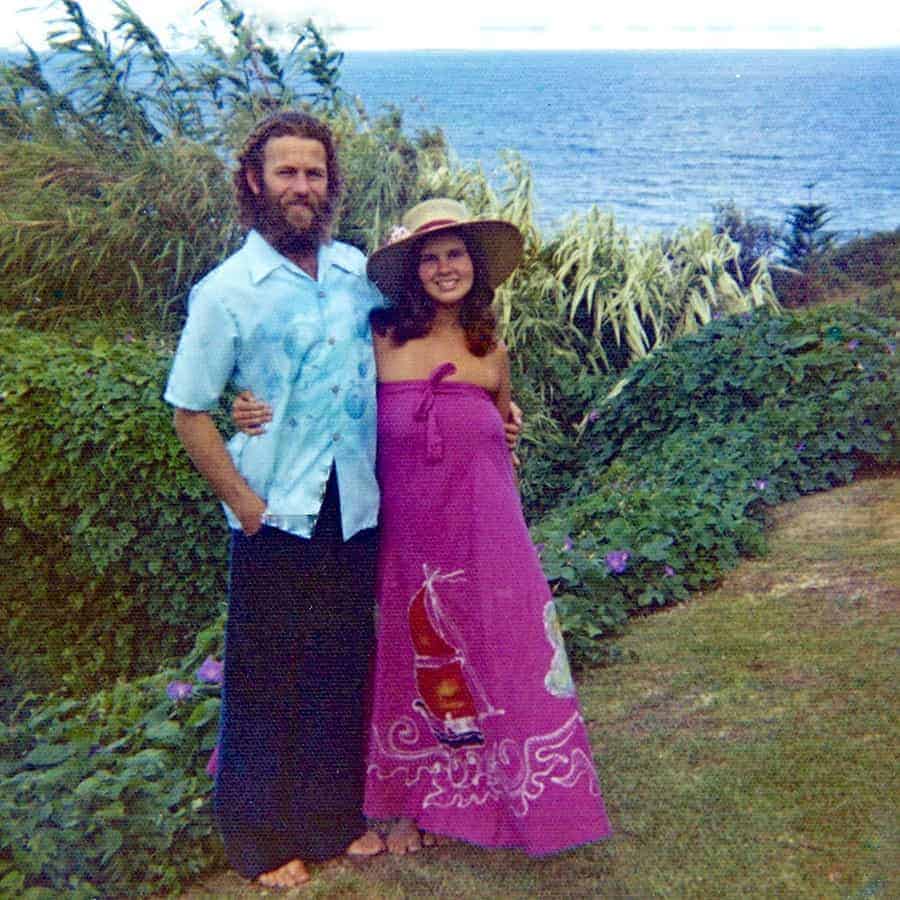 Our story is simple, yet very layered.
From the first day we met over forty years ago, we have shared an active interest in the wonderful healing capabilities of plants and have maintained a passion in creating products that deliver the very best of nature's goodness.
Free Spirit Group Pty Ltd is a small business situated on the northern rivers region of New South Wales, Australia and solely operated by us – David and Melanie Dane.
It is important to us that our products are always 100% pure and natural – from the growing and harvesting to the moment they are bottled and labelled – we want to make sure their integrity is respected and protected.
We honour responsible and sustainable organic agriculture, embrace ethnic and social values and wish to positively contribute to regional communities in different nations around the world.
For these reasons, we have personally visited the countries and regions where we selectively source our raw materials to meet the people and experience their culture and traditions so that we can make sure our values and theirs are highly regarded and supported by our business.
1970s
Before meeting in the early seventies, we were both were fascinated by the valuable healing properties of plants and David was training as a herbal chemist. Together, we started our first company, Nature Spirit Herbal Products and manufactured herbal extracts and tinctures from our farm Rumbalara, a beautiful property overlooking Byron Bay.
Here we organically grew fields of herbs – comfrey, lemongrass, calendula and more which we used in the making of our products. Dorothy Hall and Denis Stuart, the highly acclaimed educators of Australia's leading schools of herbal medicine back then, were our best customers, along with their students and qualified practitioners.
We believed that the benefits of herbal medicine need not be limited to those seeking professional prescription so we created a range of herbal ointments and essential oils for the general public at the end of the seventies. This was the beginning of Sunspirit Oils and the introduction of aromatherapy to Australia.
1980s
For the next 10 years we raised our four children and worked the business from our farm. Our humble cottage industry grew too big for the farm, so we purpose-built new premises and moved into the Byron Bay Industrial Estate in 1992.
1990s
In 1995 we were celebrating 20 years of work in herbal medicine when our lives were shattered when a fire totally destroyed our factory. Even though the firemen said it was the nicest smelling fire they had ever been to, we were devastated and unfortunately, a number of our staff had to lose their jobs.
We decided to discontinue manufacturing the herbal extracts and put all our attention into rebuilding our aromatherapy business. Sunspirit Oils rose out of the ashes, opened its new factory a year to the day of the fire and regained its position in the marketplace as Australia's leading Aromatherapy company.
Incredibly, we were awarded the "Phoenix Award" the following year in the NSW Small Business Awards. Under the banner of Sunspirit Oils, we created several other brands to service different sectors of the Australian and export market – of these Eureka! Oils for grocery and Oleum Aromatherapy for the beauty industry were most prominent.
Lavender Oil was the 'hero' oil for all these brands. We had been its pioneers – introducing it to the Australian market and educating people about Lavender's wonderful virtues. We created the first water soluble Lavender Oil in Australia which was released in the early nineties. We have continued to improve the water soluble formulation and have perfected this product now sold as Love Lavender water soluble solution.
2000s
In 2004 we sold Sunspirit Oils Pty Ltd and took some time off to enjoy travelling the world. Of course, we were attracted to exploring places that were rich in botanical culture. Enter Australian Lemon Myrtle oil on to the essential oil stage and we found ourselves playing with essential oils once again.
Our company Refreshed Lemon Myrtle worked hard to establish the lemon myrtle industry on the North Coast of NSW. After six years, Refreshed was sold so we could retire. Ha!
Retirement didn't last long – in fact, it never got off the ground. After watching the aromatherapy industry deteriorate because so many poor quality products flooded the market, we felt compelled to re-birth our business with the true and noble Lavender oil and to introduce the most exceptional Rose Hip Seed Oil.
So we ventured out to find the best oils the world could produce and through Free Spirit Group, we created the Love Lavender and Rose Adore product ranges.
But it didn't stop there! We had also been exploring the wonderful world of organic seed oils which led to the development of the Love Seed Oil range – exotic and precious seed oils, ethically sourced, genuine and organically certified. And most importantly to us – positively contributing to indigenous communities with total respect to environmental, regional, economic, cultural and social values.
Enter megaOmega® Algae Oil
We feel so blessed to have been given the opportunity to make this valuable resource available to those who need it so much – helping them to Live Stronger and Live Longer. We have now decided to keep our full attention on this one product line.
The Love Lavender, Love Seed Oils and Rose Adore products have been acquired by Byron Bay Love Oils who will continue to sell the finest quality, pure certified organic seed oils and other natural oils – respecting the philosophy we have infused into those products and keeping the high standard set by Free Spirit over the years.
David and Melanie Dane in 1975, the year they founded Sunspirit Oils, pioneering Aromatherapy and natural health care oils in Australia.