Free Spirit MegaOmega
has the highest natural DHA level known on Earth for providing you the power Omega-3 that your body uses most.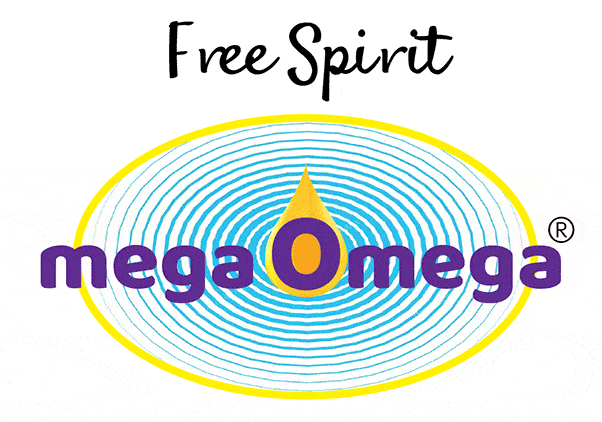 MegaOmega is a water extracted, natural algae oil obtained from the wild-type food grade strain of Chromista marine algae (Schizochytrium sp.).
This product delivers the purest, cleanest and most potent source of Omega-3s – 1000mg DHA and 10mg EPA per 2ml serving – plant based and perfectly balanced to meet your body's needs.
Just 1 full dropper, or 3 softgels a day of MegaOmega provides a super nutritional solution to what can be seen as a global epidemic – Omega-3 deficiency.
Our modern lifestyles have established an environment where consumption of Omega-3 DHA is very inadequate, if not dangerously deficient.
• • •
Most of the population is overly exposed to Omega-6 fatty acids and very depleted in Omega-3 DHA. On average, the typical diet contains less than 100mg of DHA per day, well below the amount recommended by expert organisations around the world.
• • •
MegaOmega has the highest natural DHA level known on Earth for providing you the power Omega-3 your body uses most.
• • •
DHA does not interfere with medications and it doesn't thin the blood.
• • •
When taking high DHA oil supplements, the liver converts DHA to EPA as much as needed within several hours. You can't get too much DHA – what you don't need you burn as energy. It's how the body works.
• • •
The benefits are cumulative and felt more over time, rather than immediately.
For optimal health, the DHA in our bodies need to be raised to a favourable level to enable peak performance.
So initially, more is recommended to build our reserves up to an optimum quantity and then once this is done, the serving size can be reduced by half to maintain a satisfactory DHA level.
It takes approximately 6 months to raise the blood levels of DHA and 12 months to raise the tissue levels.
Note: MegaOmega can be taken any time – however, it's best with breakfast.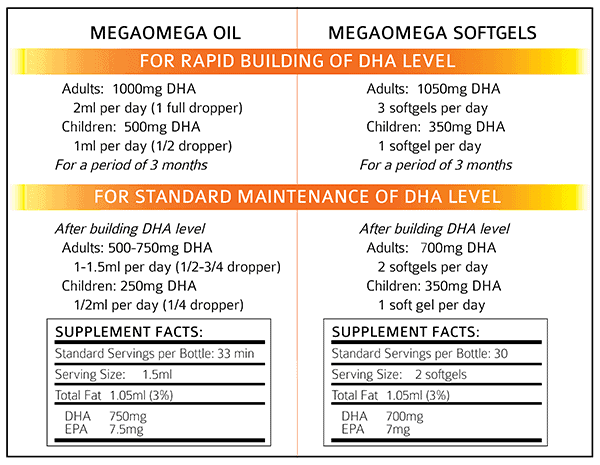 Love this product. Tastes good and easy to take with dropper. 
Abigail F.
Amazing. High quality, vegan omega 3. 
Grace S.
My 13 year old daughter and I have both been taking the MegaOmega Algae Oil for a couple of months now. I have seen a noticeable difference in my daughter, particularly with her energy levels and moods. She is more vibrant and energetic and she just seems much happier in general. Less of the moody teenager! It's so nice to hear her so happy and excited for life in those moments.
For myself, it just felt right to take this product, it had been recommended to me and after reading the statistics and reviews it sounded too good not to have. I have also noticed a shift in my energy levels, which is something I had been working on for a while! It's like I have more drive for my busy days. I honestly put this down to my morning ritual of this oil and a greens mixture. I would highly recommend trying this wonderful product!
Warm wishes, Laura
Your oil! 
I've been on it for three weeks and not sure how to explain it but my skin feels better already???
I don't seem to be putting on body moisturiser everyday which is crazy…
I've always suffered from dry skin prone to eczema.  
 – posted to Freespirit on Instagram
I've tried a lot of different oils which just made me feel sick in the tummy but nothing that has given me these results!
Incredible 👏❤️  
 – posted to Freespirit on Instagram
We have recently transitioned to being vegan.  My kids used to take fish oil tablets, but my naturopath recommended your product.  Kids love the lemon taste, bonus. 
I am so happy to tell how much it has helped my youngest daughter & husband neurologically, much calmer and not as panicky and much more focused 🙏🏼. 
Thank you, Karina. ☺️👍🏻
I love it! 
In only one week have noticed a difference in my energy levels. More consistent, even and strong. 
Been telling everyone about it… If you send me some brochures would be helpful. Gave mine away and have friends let friends taste mine… am impressed Melanie. It's a very good product.
Question: My daughter-in-law in USA is interested to get some. How does she get it over there? 
Elizabeth. 
100% NATURAL and ORGANIC
HIGHEST POTENCY
VEGAN – PURE PLANT OMEGAS
NON-GMO and CONTAMINANT-FREE
SUITABLE FOR ALL AGES
SAFE DURING PREGNANCY
NO OMEGA-6 OVERLOAD
ENVIRONMENTALLY RESPONSIBLE
Finest and purest wild-type, food grade algae strain, cultured in pure water in quality controlled indoor tanks free of environmental exposures.
Unique, patented water extraction process without the involvement of solvents, hexanes or alcohol at any step.
No fishy taste or smell.
"Instead of fish oil supplements, look for fish-free, plant-based, algae derived Omega-3 supplements."
Anthony William, Medical Medium
OUR QUALITY STATEMENT
SAFE:  Water extracted wild strain Schizochytruim sp. from the Chromista kingdom has no reports of toxicity.  Manufactured and bottled under GMP.
CLEAN, PURE and FREE OF:  animal products, fish, GMOs, wheat, gluten, diary, lactose, eggs, yeast, soy, nuts, seed oils, sugars, alcohols, hexane, solvents, fillers, colouring, fragrance, synthetic preservatives, chemical additives, silicon, BPA, PCBs, dioxins, heavy metals and radioactive elements.
VEGAN and CRUELTY FREE:  Organically pure plant omegas.
UNIVERSAL APPEAL:  Suitable for everyone of all ages, including those with cultural and religious food specifications. And no fishy taste or smell.
MEGAOMEGA ALGAE OIL
OMEGA-3  |  1000-1050mg DHA/10mg EPA per serving.
Naturally balanced to meet your body's Omega-3 needs.
Highest potency
Wild strain Chromista oil
Schizochytrium sp.
Vegan  |  Non-GMO
INGREDIENTS
ALGAE OIL LIQUID:
Water Extracted Chromista Algae Oil – Schizochytrium sp., cold pressed organic lemon peel oil as flavouring, natural tocopherol as antioxidant.

ALGAE OIL SOFTGELS:
Water Extracted Chromista Algae Oil – Schizochytrium sp., natural tocopherol as antioxidant. Veg-Softgel (vegan).
Humanity Calls
We respect life, honour nature and believe in love.
Our mission is to provide the purest and highest quality supply of the master Omega-3 DHA at a price that is family affordable.
MegaOmega has transformed us. It has made us want to share this product with others to help them on their journey to living stronger and living longer.
David and Melanie Dane in 1975, the year they founded Sunspirit Oils, pioneering Aromatherapy and natural health care oils in Australia.